2021 Ford EcoSport for Sale Granbury Fort Worth TX Dealer
Mike Brown Ford is the Dealership near me to find the best deals on the 2021 Ford EcoSport for sale.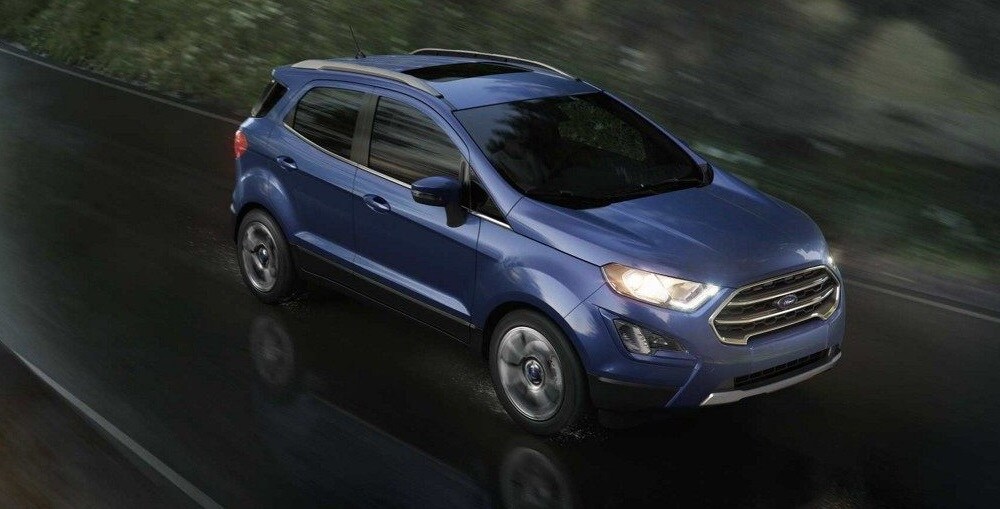 2021 Ford EcoSport for sale in Stephenville Granbury Fort Worth TX is the perfect size for the person that wants maximum value! This is the crossover that combines car and suv flawlessly and seamlessly. With a compact car size it is super-maneuverable, able to whip in and out of tight places including but not limited to parking spots and tight lanes. The style of it is like no other by combining the 2 different classes the way this vehicle does, and keeps all the versatility of an SUV, so much more than just a hatchback car. the inside is also something to check out, designed with you in mind and not just what Ford thinks you need, but what Ford knows you want! so continue on this page to learn more about this fantastic and affordable crossover car/SUV!

2021 Ford EcoSport for sale in Stephenville Granbury Fort Worth TX has a very luxurious interior, more so than most of its competitors offer. The entry trim does come with a premium cloth and leather is added as you move up in trim lines. The seats are wide and comfortable in both the front and back row as what you have come to expect from Ford, and you can fit five full sized adults inside the cabin with ease and complaint free. When you have only 2 in the back there is an armrest that comes down in between to improve comfort levels in the rear of the vehicle. Some of the available features inside are the power moonroof, full-color 8" touchscreen display for your center console, and heated leather-trimmed front seats as the image above shows. One things you may think to your self living here in Texas is, what do I need heated seats for, it is hot 75% of the time here and only cold just a hand full of days. Well, one thing to point out is these seats are great for anyone with any kind of back pain because they also serve as back warmers/muscle relaxers. Even on a hot day, these can soothe the pain of a long day! Just something to think about.

2021 Ford EcoSport for sale in Stephenville Granbury Fort Worth TX also stands out with its great looking exterior. From the image above looking at two of the most popular trim lines; the SES and Titanium, you will notice the same vehicle but with 2 distinct looks. Something that all the trim lines have in common is of course the sexy silhouette of the vehicle, an intelligent "c-pillar" forward design to help with blind spots, a rear door that opens from the side (As opposed from the bottom, as seen in the image below), and body molding on the lower portion of the vehicle to add to its look as well as protect the body. However, from there you will notice subtle differences like grilles, wheels, headlights and tail lights, and things of that nature. Using the image above as an example, you can see that the SES has more of a sporty look to it with the darker accents, which the Titanium hos more of a luxurious look with its chrome take-aways! Neither is better than the other, just different looks for different people and their wants. You want it, and EcoSport delivers it!

2021 Ford EcoSport for sale in Stephenville Granbury Fort Worth TX comes equipped with tons of standard and available features that are some of the most popular in the industry. The available BLIS, Blind Spot Information System, that also comes with cross-traffic alert for example is an insanely popular item. This technology detects when someone is in your blindspot and will let you know that it is not safe to turn or move over lanes. Additionally, the cross-traffic alert is ideal for tight parking places or when a bigger vehicle parks beside you and you need to back out of a parking place, but cant see around the other vehicle to see if any traffic is coming. This system will let you know when it is safe to back out, it is like having a second pair of eyes behind your vehicle helping you get out of places you have a hard time seeing in.  There is also the MyKey, a system that is designed to help younger drivers build responsible driving habits. With this technology, your child's key to your vehicle can restrict top speeds, decrease audio volumes, and force safety belt usage. There are integrated USB ports indie for charging of devices, a standard rear view camera, and even an available SYNC Connect Wi-fi hotspot built right in so you have internet anywhere you go, even on non-cellular devices such as tablets. This vehicle has though of it all and if you are looking for a great crossover that can meet all your needs, look no further than the EcoSport!

2021 Ford EcoSport for sale in Stephenville Granbury Fort Worth TX comes in 4 trim lines: S, SE, SES, and Titanium. All 4 trims have the same powertrain with the exception of the SES, and all are pretty decently equipped, even the entry line. There is only about 6,000 between all 4 trims from the lowest to highest price. The standard engine is the proven EcoBoost turbocharged 1.0L, and the SES has available the 2.0L Ti-VCT.  Depending on the engines you want and style of the vehicle you desire fused with your equipment needs will determine which is best for you. You decide what equipment is important to you and the right trim will pretty much pick itself! But to get all the information you need in order to make an educated decision you really do need to get behind the wheel of these models and experience it for yourself. You will be happy you did. We offer Obligation free test drives and no-hassle visits. Our family owned dealership is different. Here, at Mike Brown Ford Dealership, you will be treated with dignity and we will be respectful of your time.