THE ALL NEW 2017 FORD SUPERDUTY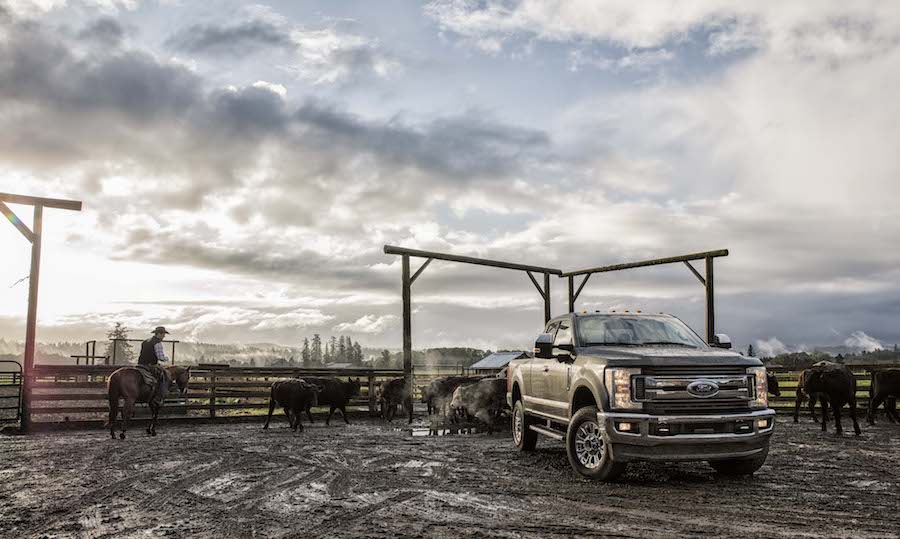 The Toughest, Smartest, Most Capable SuperDuty Ever.
Introducing an all-new F-Series Super Duty. The 2017 F-250, F-350, and the massive F-450. We set the standard in truck capability. Now we've raised it even higher. This tough-as-nails workhorse is loaded with material innovation and advanced technology. Rust can't touch its all-new high-strength, military-grade, aluminum alloy body and cargo box.1 Its all-new, fully boxed, high-strength steel ladder frame is the strongest Super Duty pickup frame. Ever.
---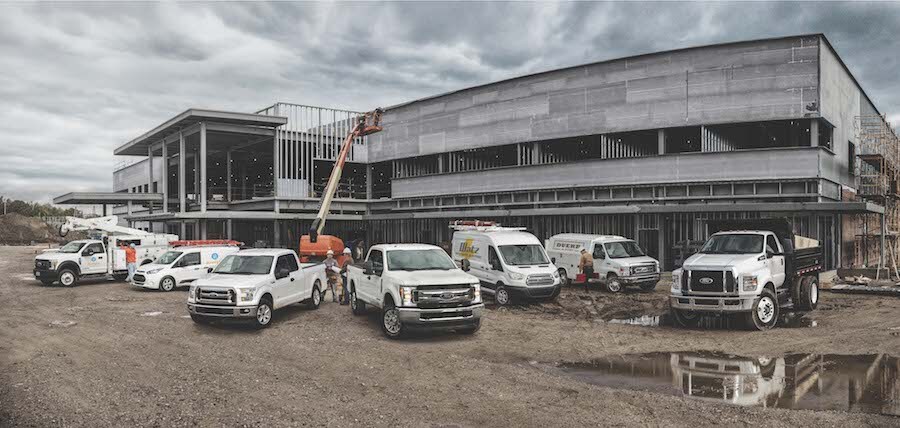 The Toughest SuperDuty Body Ever.
It's astounding what an F-Series Super Duty will haul over its lifetime. Cinder block. Stumps. Pipe. Tools. Machinery. Landscaping material. Generators. 5th-wheel/gooseneck trailers. So we've made the cargo box of the all-new 2017 Super Duty even more capable. It's the first and only one in its class1 made from high-strength, military-grade, aluminum alloys. To handle the increased loading requirements and enhanced capability of a Super Duty workload, we re-engineered the cargo box and upgraded its panel thickness. It does not rust. It's more dent- and ding-resistant. Simply put, it is
Use of this advanced material saved weight as well, so we reinvested those savings directly into upgrading the essential components that work the hardest - the frame, axles, leaf springs, transfer case, driveline and trailer hitches. With a stronger frame, tougher body and upgraded componentry, the 2017 Super Duty tows more, hauls more, and is more capable then ever-while weighing up to 350 pounds less than before. This is the Future of Tough.
---
The Strongest SuperDuty Frame Ever.
Super Duty demands a foundation built for extremes. This all-new, fully boxed ladder frame - made of 95% high- strength steel - is engineered to be up to the task. With 6 times more high-strength steel than the previous generation, it's up to 24 times stiffer - helping to produce the best ride and steering of any Super Duty ever. That's just the kind of stability you need when you're towing a best-in-class 32,500 lbs. of heavy-duty machinery behind you.1
Through-welded, closed-section crossmembers, used on Super Duty for the first time, help increase torsional stiffness. Frame mid-rails are 1.5" taller for added stiffness. And an e-coat paint process encases all that strength for extreme durability and corrosion protection.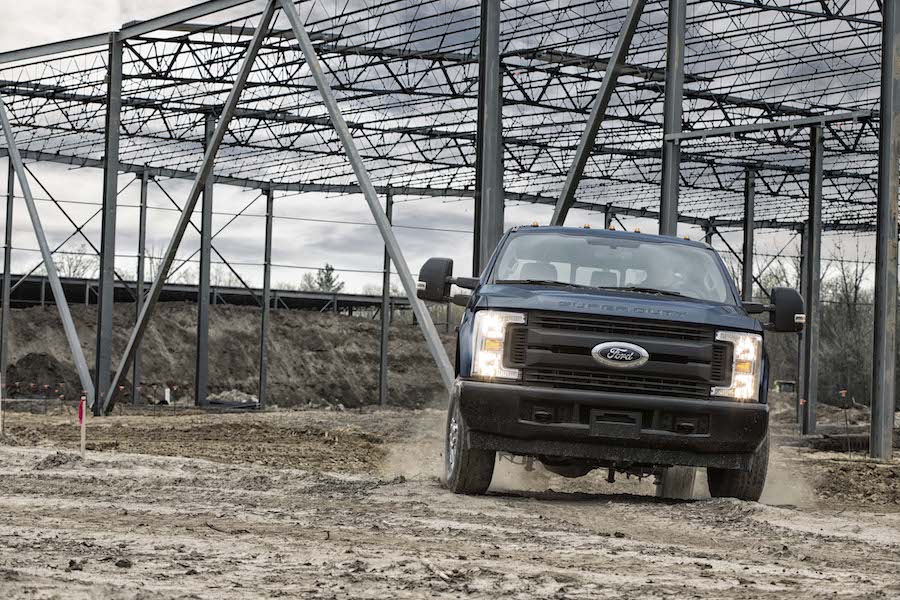 ---
12 Million Miles of Testing.
We tortured it. In the engine lab, on the proving grounds, and working in the real world. Our dedicated team of truck engineers ran it with maximum trailer weights. Up and down steep grades. Then up and down again. In stifling heat above 100°F. And in subzero cold. This all-new 2017 Super Duty is engineered for extremes.
Its robust new cargo box endured extensive strength and durability testing. First, with body structure engineers running it through countless hours of supercomputer simulations. Then, while driving prototype vehicles over brutal road surfaces at maximum payload limits. The cargo box and upgraded driveline took the abuse, run after run. Before the first truck rolls off the line, we'll have logged over 12 million cumulative miles of testing - more than any of its predecessors. Trust us when we say: The 2017 Super Duty is Built Ford Tough. In every way that matters.
---
Power Stroke Diesel - Class Best 925 LB.FT. Torque.
As the market leader, Super Duty owns work. Loggers, landscapers, miners and oil field workers rely on it in extreme conditions. With the all-new Super Duty, they'll depend on the strongest 6.7L Power Stroke®V8 Turbo Diesel engine4 yet. New this year: twin-pilot injection for smooth acceleration; upgraded pistons, rods, crankshaft cylinder heads and gaskets. Plus, a driver-controlled engine exhaust brake with On, Off and Auto settings that allows use of engine braking to help slow the truck down and control vehicle speed. This proven diesel is paired with an equally rugged TorqShift®6-speed automatic transmission. Both are designed, engineered and built by Ford. Together, they deliver its highest combination of horsepower and torque ever.
The numbers push, pull and speak for themselves. Larger fuel tanks - up to 48 gallons maximum - help improve your range of travel as well. The most tested Power Stroke diesel ever is also B20-capable. And right where it belongs in the 2017 Super Duty.
---
Even The Dirt Will Be Impressed. 
After all, it has the best vantage point to see where the weight savings from the all-new 2017 F-Series Super Duty have been reinvested. And it is a sight to behold.
Front suspension: optimized for increased capability with new shocks, radius arms, springs, larger lower bushings and upgraded stabilizer bars with new collars. Rear suspension: upgraded and optimized with new shocks, bushings and re-engineered leaf springs for improved stance under load. Brake master cylinder on F-450: larger, for less brake fade under extreme braking conditions. Trailer hitch receivers: bigger, stronger with more weight-carrying capability. This Super Duty is ready for down and dirty.

---
Class-Best 32,500 LBS. Max. Towing.
Towing numbers lead the class across the board. Best-in-class max. towing: Super Duty F-450 at a whopping 32,500 lbs.1 Best-in-class max. 5th-wheel towing: F-350 DRW at 27,500 lbs.1 And best-in-class conventional towing: F-350 DRW at 21,000 lbs.1 If you need to tow more than any other truck in the class, you'll be in a Super Duty. It's optimized for heavy hauling. So you can pull the most weight1 - confidently.
To help you handle it all, the 2017 F-Series Super Duty is our smartest and most capable towing machine. Ever. Providing you with an unprecedented level of towing confidence with even the largest loads. Smart technology helps make towing easier than ever: Cameras2 aid in hooking up your trailer; class-exclusive adaptive cruise control2 makes handling all that weight seem almost effortless; and adaptive steering2 makes parking easier at your destination. 
---
Class-Best 7,630 LBS. Max. Payload
After surviving countless hours of abuse at the hands of Ford engineers, this high-strength, military-grade, aluminum alloy cargo box is reporting for duty. Super Duty. Best-in-class payload sits inside these walls. In fact, max. payload numbers have increased across this F-Series lineup. And for good reason. Panel thickness of the cargo box: upgraded. Reinforcements underneath the box: fortified. Dent and ding resistance inside the box: better than steel. Susceptibility to red rust: gone.
Accessing your payload is easy, too, thanks to extended step bars that reach to the side of the cargo box, as well as our class-exclusive tailgate step1 in back. To help increase your confidence while hauling heavy loads, every Super Duty features AdvanceTrac® with RSC®(Roll Stability ControlTM) - that now includes DRW models too. It utilizes 2 gyroscopic sensors to automatically help you avoid skidding and fishtailing, helping you keep all wheels firmly planted. Load up. Head out.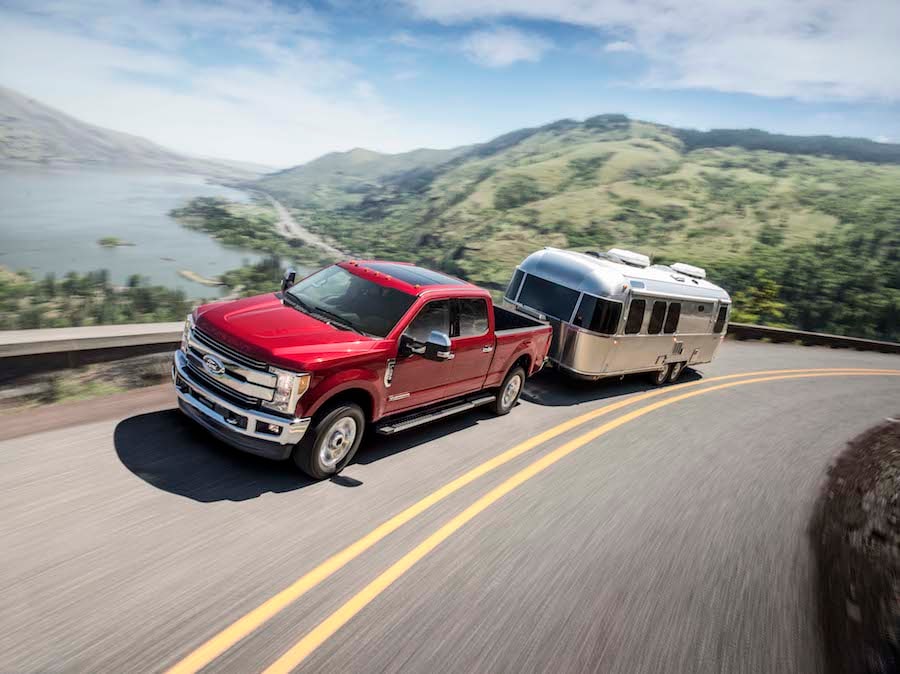 ---
Powered For Productivity.
The 8" color LCD productivity screen1 in the instrument cluster of the all-new Super Duty is your new command center. Keep your most used screens front and center with MyView. Just choose your favorites (up to 7) and put them in one consolidated view for greater convenience. Unique Super Duty screens include a digital turbo gauge for the 6.7L Power Stroke®V8 Turbo Diesel engine, and a DEF gauge.
The Individual Tire Pressure Monitoring System not only notifies you if any individual tire's pressure is low, but the system tells you how low. Track towing information, such as trailer brake controller1 settings, vehicle pitch and steering angle, and profiles of up to 10 trailers - including accumulated miles on each. A class- exclusive Trailer Tire Pressure Monitoring System1 can monitor and display the individual tire pressures of a connected trailer, and warn you if any tire is low. A power distribution screen when driving off road even shows you which wheels are receiving the most power. In Super Duty, all the info you need is front and center.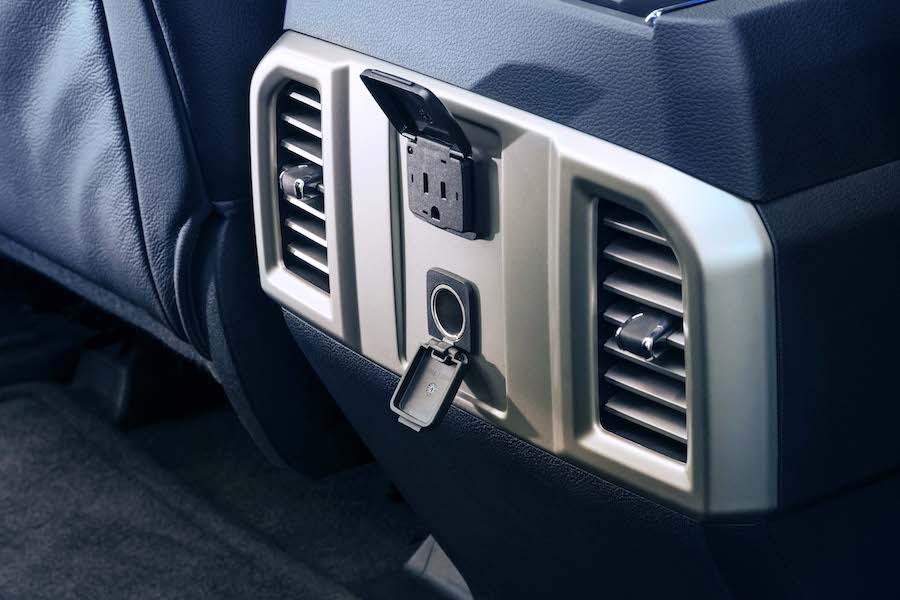 ---
Ride Like A King.
You can, in all-new cabs that are longer across the lineup - Regular Cab, SuperCab and Crew Cab. On KING RANCH®, you can massage your lower back and upper leg area, and change your seat contour, with the heated and cooled, leather-trimmed 10-way power front seats equipped with Active Motion.® The driver's seat, power-adjustable pedals, power sideview mirrors, and power-tilt and -telescoping steering column all feature memory to make life even more convenient. On the leather-wrapped center console lid, the KING RANCH Running W logo is prominently displayed.
Listen to everything you love with SiriusXM® Satellite Radio. Get over 150 channels including all kinds of commercial-free music, plus every major sport and the best talk, news, comedy and entertainment. And you'll hear it all with a 6-month trial subscription to the All Access package, included with your new Super Duty. So you can rock your ride, plus listen anywhere online and on the SiriusXM app. All in the quietest Super Duty ever.
---
2017 FORD SUPERDUTY F-250 Granbury Weatherford Burleson TX Dealer
How much does a new 2017 Ford SUPERDUTY F-250 cost?
2017 Ford SUPERDUTY F-250 starting price is $42,488.
How much is a lease for a new 2017 Ford SUPERDUTY F-250?
2017 Ford SUPERDUTY F-250 lease options with low monthly payments.
2017 FORD SUPERDUTY F-350 Granbury Weatherford Burleson TX Dealer
How much does a new 2017 Ford SUPERDUTY F-350 cost?
2017 Ford SUPERDUTY F-350 starting price is $54,950.
How much is a lease for a new 2017 Ford SUPERDUTY F-350?
2017 Ford SUPERDUTY F-350 lease options with low monthly payments.
2017 FORD SUPERDUTY F-450 Granbury Weatherford Burleson TX Dealer
How much does a new 2017 Ford SUPERDUTY F-450 cost?
2017 Ford SUPERDUTY F-450 starting price is $68,850.
How much is a lease for a new 2017 Ford SUPERDUTY F-450?
2017 Ford SUPERDUTY F-450 lease options with low monthly payments.